Featured Artists | The Fernie Arts Co-op
---
The Fernie Arts Co-op is a collective of some of the region's best artists and artwork.
The retail location at 572 2nd avenue features an eclectic collection of pottery, painting, photography, glass art, jewellery, textiles and leather goods, sculpture, souvenirs, soap and cosmetics. Many of the co-op's artists are inspired by our local environment so visitors can expect to see beautiful scenic landscapes, images of local wildlife and activities, and lots of mountain colours alongside a few surprises.The 50+ artists who make up the Co-op's roster are based in or near Fernie, with some artists calling the Crowsnest Pass home, and some based to the west of Fernie in Elko.
Each one brings a fresh perspective to the vibrant store, from the whimsical jewellery, textiles, stickers,and landscape art of founding members Alice Byrne and Keya White to the graphic drama of paintings by Karin Wardle and Patrick Markle. Wildlife features in many forms; Marla De Boon's detailed animal portraits are presented in highly illustrative and dream-like settings, while Annica Collombin distills her images down to basic graphic elements and then applies them to wood for finished pieces that look as good indoors as out.
The Fernie Arts Co-op is a cherished feature inFernie's arts community and a must-visit stop on the Fernie Art Walk. Fernieartsco-op.com | 250-423-7044
Featured artists:
SHARLENE CZEH
Shar is a Fernie-born artist who has been creating jewellery since 2019. She utilizes a variety of metals, often layering,embossing,and enameling to add detail and visual appeal. Shar began painting in 2013, building on her skills to create three-dimensional artwork that often incorporates flower, heart,and feather motifs alongside inspirational messages for striking pieces that make great gifts or a special memento of a happy time. Her work can also be found at many local markets and online.
TATHLINA LOVLIN
One of the Co-op's newer members is Elkford-based Tathlina Lovlin. Tathlina grew up in Yellowknife, studied engineering in Saskatoon, and moved to the Elk Valley in 2006 with her husband. Although her career led her to a position in the mining industry, she has been passionate about pottery since the age of 8 and was teaching through the Yellowknife Guild of Arts & Crafts by the time she was 15. After leaving mining in 2016, Tathlina developed her home-based business, teaching wheel classes through the Elkford Arts Council and selling her practical, usable, works of art through local markets. Her pottery cups, goblets, platters and bowls incorporate earthy tones with the occasional pop of lime green or royal blue in dramatic colour bands.
ERIKA SOWCHUK
Erika rediscovered her love of woodworking after returning to Fernie following travels and study in Wisconsin. Incorporating modern graphic design and laser cutting techniques to traditional woodworking skills, Erika has developed a line of phone cases that combine her love of the outdoors with a practical, usable piece of art. Erika relies on the natural variety of colours and textures of woods including maple, ebony, walnut and bamboo to create the contrast of light and dark for her silhouette-style pieces. West Coast Cases have been featured as one of '9 handmade Canadian products you'll love' and can be found at art markets across Canada.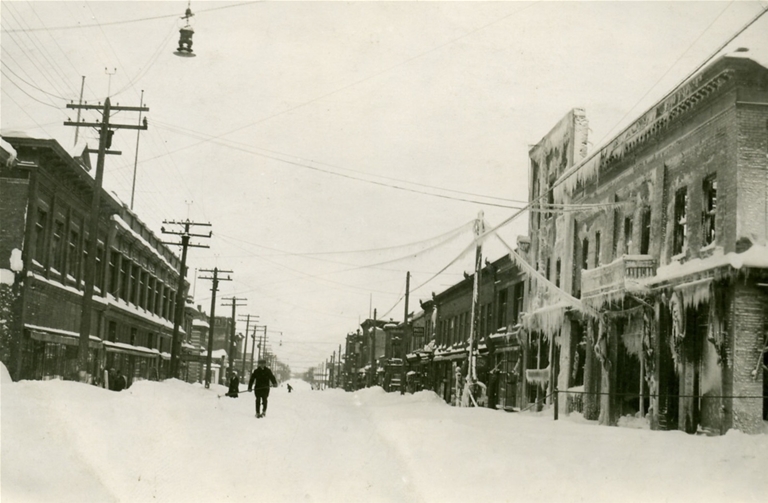 Featured: Ghost Stories of Fernie
Learn of the ghosts that haunt this hidden corner of the Kootenays…
Learn More
Sign up for our quarterly newsletter