Heritage | Fernie's Old Town
---
Walk southwest along Fernie's 2nd Avenue from the crosswalk at 4th street and you will see some of Fernie's oldest surviving buildings.
Now lost to fires, floods and time, Fernie's earliest modern roots are just a little farther to the south. In the last decade of the 19th century coal was king and the railways were connecting Canada from coast to coast. The very first settlement between Crow's Nest and the Kootenay River had humble beginnings. An A-frame tent was photographed near where the wagon road crossed Coal Creek in August of 1897. Within a year, as mining activity rushed into the Elk Valley, one 'unlovely' lane flanked on either side by rough log shacks had sprung up, but the location was already falling out of favour. Poor drainage and constant smoke from the new coke ovens made this a dreary place to live.
Although life was rough in those early days, it never got out of control. Major Saunders took care of law enforcement for the North West Mounted Police and any disturbances at the Coal Creek Saloon were quickly dealt with. The shacks themselves were often small enough that visitors could see over the rooftops by standing on tiptoe. One visitor in 1905 was so enamoured by the art and utility of a simple door that he wanted to carry it away to put on display. The reason for his fascination? The door held the shack's only windows: two whisky bottles framed in the timber.
The three hotels established in Old Town – the Coal Creek, Victoria, and Waldorf – along with a smattering of businesses including the London & Liverpool (later the Trites & Wood Mercantile) were quickly either replaced or relocated to the new townsite, which was laid out by the summer of 1898. Other businesses like the Fernie Brewery, which arrived in 1900, existed at this location until1959. Fernie's neighbourhoods ebb and flow, but Coal Creek will always lie at its heart.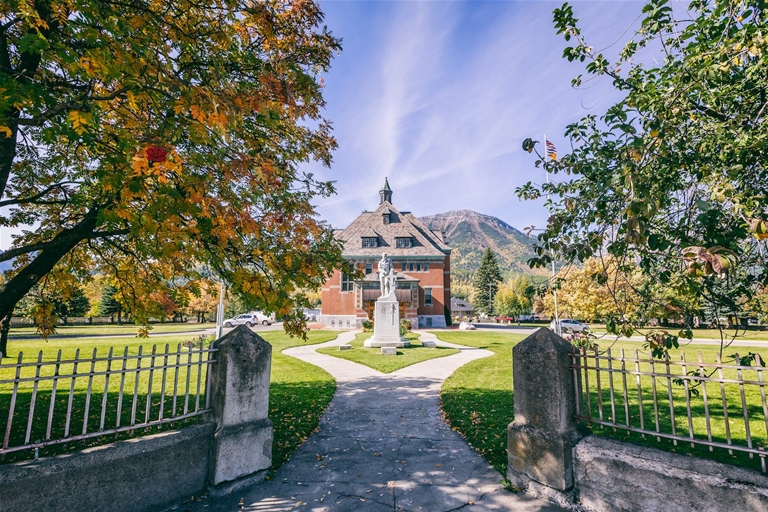 Featured: History | The Fernie Cenotaph
Commemorating the end of WW1 with Fernie's moving tribute, the site of the annual Remembrance Day Service.
Learn More
Sign up for our quarterly newsletter