Featured Artist | Patrick Markle
---
The smooth, bold style of Canadian artist Patrick Markle's paintings beautifully represents the dramatic yet tranquil nature of Fernie's scenery. Working from his own photos, each image is distilled down to the essential recognizable form before he applies his own unique swirling, linear brushstrokes to capture a sense of movement and living nature. The rhythmic nature of each study captures a fleeting memory of a moment in the ever-changing landscape.
Markle began painting in Ontario where he was inspired by the waterscapes of his home in the Kawartha Lakes Region. He graduated from Lakehead University with a B.F.A. Honours. After graduation he travelled to BC and was a successful tree planter in the summer months which gave him time to paint in the winter. His popular 'lanterns' series was inspired from his time as a planter, when bonfires were not allowed so he would hang paper bag lanterns in the trees around his tent.
Arriving in Fernie around 15 years ago as a ski bum, Markle now works full time as an artist from his cosy home studio. Recent experiments have led him to a new, looser series of work that he calls his square skies series. Watching for unique morning light, he is also working on a dawn series featuring dramatic pink skies. At the same time, the signature linear form of his work has become even more focused, heightening the impact of the striking colours.
In Fernie, his work can be found at the Fernie Arts Co-op, The Blue Toque Diner, Island Lake Lodge and Elk View Lodge. He travels to art markets in Alberta, BC and Saskatchewan. His series of prints can be found across the country in various galleries. Markle lives in Fernie with his wife Courtney and their four-legged companion Chelsea.
Patrickmarkle.com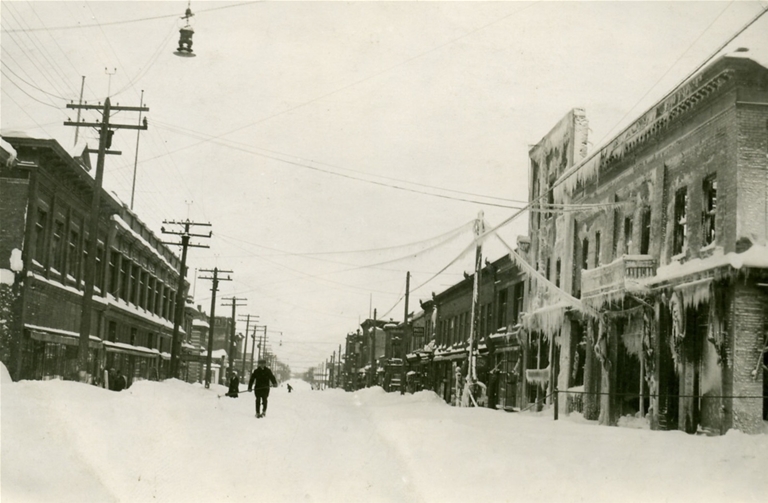 Featured: Ghost Stories of Fernie
Learn of the ghosts that haunt this hidden corner of the Kootenays…
Learn More
Sign up for our quarterly newsletter